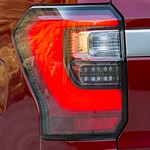 When you're purchasing a larger luxury vehicle, power is incredibly important. You need enough power to help that vehicle handle the road with ease, but a lot of people purchase these vehicles with towing capacity in mind. The Ford Expedition is perfect in all areas. It has ample interior space for passengers and cargo, but there's also plenty of power under the hood.
The standard engine inclusion for the Ford Expedition is a 3.5-liter V-6 and a 10-speed automatic transmission. You can achieve 375 horsepower with this engine, and a bit more if you opt for the EcoBoost variety. There is a towing capacity of 9300 pounds with the Expedition.
Expect fuel efficiency numbers to be relatively impressive for this size of vehicle. You can achieve 17 miles per gallon in the city streets, and 25 miles per gallon is typical for highway driving.