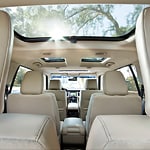 If you are looking for something unique, a car that does not stick to the rules, then the Ford Flex is what you want. The Ford Flex is a crossover SUV that favors functionality over style. Within its boxy exterior lie three seating rows with enough room for up to seven passengers and cargo.
The Ford Flex's boxy appearance does not affect its charm even one bit. Its exterior is characterized mainly by glass, which dominates the sides and (optionally) the roof. The dimensions of the Ford Flex mimic those of a minivan but only cooler. The ride height lies somewhere between an SUV and a regular sedan. This means that entering and exiting the Ford Flex is comfortable while strapping kids to the back seat will not cause much strain on your back. The Ford Flex also offers a powered tailgate as standard on the Limited trim but optional on the SEL trim.
The front of the Ford Flex is graced by a horizontal grille flanked by square halogen headlights. The SEL and Limited trims feature a massive bumper that includes low-placed fog lights. We at Premier Ford Lincoln highly recommend the Ford Flex for drivers who are looking for a practical car.