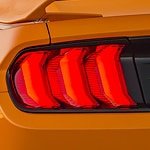 The Ford Mustang is a performance icon. That's thanks to the Mustangs great style and incredible speed. However, the Mustang really shines thanks to of its incredible handling features. Here's a look at some of the top handling features on the current model Mustang.
When it comes to handling, you have to talk about the tires and the wheels. With the Mustang GT performance package, you get 19-inch high performance Pirelli Corsa tires that sit on 19-inch aluminum wheels. These tires will give you all the grip that you need at high speeds.
The Mustang also offers MangeRide Damping System that can respond to sudden changes in road conditions. In fact, this advance damping system can adjust itself an incredible 1,000 time per seconds. When you want a performance coupe that knows how to handle itself, the Ford Mustang is your top choice.