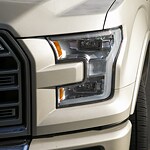 The new Ford F-150 is a multipurpose heavy-duty truck with unique features that stem from its wide range of engine variants. It boasts advanced technology and light bodywork that enables the robust monster to maintain a top status in the towing and payload rankings. Aside from the powertrains and aluminum body, the Ford F-150 boasts accessories that allow it to outperform other trucks in the market. Furthermore, it is available in the various cab configurations and bed sizes that influence its carrying and towing capabilities.
The 3.5-liter EcoBoost V6 engine has the highest towing capacity of 14000 pounds and a payload of 3325 pounds. You can opt for the 5.0-liter engine variant that has a record 13000-pound towing capacity.
It is followed by the 3.5-liter PowerBoost V6 hybrid powertrain that pulls up to 12700 pounds. The 3.0-liter Power Stroke turbodiesel V6 falls 600 pounds short of the PowerBoost powertrain. Lastly, the 3.3-liter V6 tows up to 8200 pounds, while the 2.7-liter V6 handles not more than 10,100 pounds.