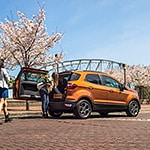 The Ford EcoSport is one car that combines practicality with fun. Driving is stressful enough on its own, so every amenity that designers add can lighten the load a little bit. The EcoSport has plenty of amenities to help make driving feel like a pleasant, relaxing task.
The EcoSport has plenty of technology offerings available, including safety features like Cross Traffic Alert and the Blind Sport Information System. These features help drivers remain alert when traffic gets to be too much to handle, and will warn them if any potential complications are detected. They are available when drivers purchase the SE Convenience Package.
The EcoSport also places an emphasis on comfort. Available heated seats help make the winter months easier to manage, while the SE Convenience Package lets drivers and passengers alike enjoy music and news through a seven-speaker sound system.