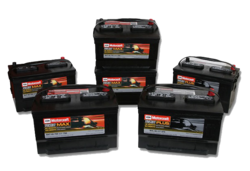 Choosing the Right battery
A healthy battery is one of the many key components to proper vehicle operation. It helps start the engine and helps keep the electronics running. It also lets you charge your phone and play your music--even when the engine is off.
But automotive batteries gradually lose power over time, and cold weather is especially hard on them.
You should have your battery tested at Premier Ford Lincoln. If you need a new battery, here's what you need to know to get the right one.
THINGS TO CONSIDER WHEN CHOOSING A NEW BATTERY
When shopping for a new battery, you should consider three important factors: Group Size, Cold Cranking Amps, and Reserve Capacity. Here's some additional information to help you choose the battery that's right for your vehicle.