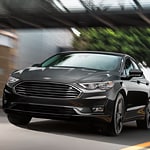 The Ford Fusion is innovating the way you get technology in your vehicle. From shopping to communicating to entertainment, you can do it all in a Fusion. So what are the top tech features on the current Fusion model? Let's take a look at two notable features.
One of the most popular tech features on the Fusion is the available 4G wi-fi hotspot. This hotspot is unique because you can allow up to ten devices on the network. That means each of the five passengers in the vehicle can have multiple vehicles on the hotspot. There are not many other vehicles that will be able to match that.
If you ever wanted to have the power of Amazon in your vehicle, then now is the chance. The Ford Fusion is one of the few mid-size sedans that offers Amazon Alexa integration. With Alexa, you able to use voice commands to do everything from getting new to navigation information. You can even do your Amazon Prime shopping from inside your vehicle.